Susano-o-no-mikoto
, son of Izanaki,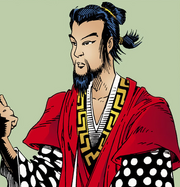 appeared in
Season of Mists
as a representative of the gods of Japan vying for the the Key to Hell then held by
Dream
.
Susano-o-no-Mikoto did not come strictly as an emissary of his pantheon, but the gods of Japan were expanding, and they felt that Hell should belong to them. He offered whatever price that Dream asked. In the end, he left after Dream found for an other supplicant.
Traditionally, Susano-o-no-Mikoto is the god of storms, thunder, and seas.
He is later seen in the spin-off series, Lucifer, in a larger role.