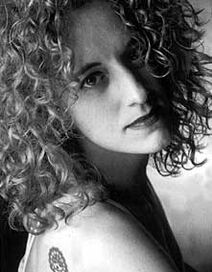 Jill Thompson is an American comic book author and illustrator.
Work on Sandman
Edit
Jill Thompson illustrated the Sandman story arc, Brief Lives, as well as the individual Sandman issue "The Parliament of Rooks".
Thompson was also the body model for a minor character, Etain, in Brief Lives.  She had drawn her own apartment and then progressed to drawing herself for the character who escaped the deadly safeguards Destruction had put in place to deter others from finding him.
Li'l Death and Li'l Morpheus
Edit
Thompson first introduced the highly popular Li'l Death and Li'l Morpheus in "The Parliament of Rooks" (issue 40).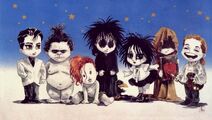 Li'l Death and Li'l Morpheus are the child-like versions of the two Endless and are based on the classic comic characters Sugar and Spike.
The two characters were so popular that they were later given their own book, "The Little Endless Storybook".
Work on The Sandman Spin-offs
Edit
She has also written and illustrated several stories featuring the Sandman characters.
These includes the manga-style book Death: At Death's Door, set during the events of Season of Mists and the Dead Boy Detectives, an original graphic novel based on two minor characters from Season of Mists.
The Sandman (1991-1993)
The Parliament of Rooks in Fables and Reflections
The Little Endless Storybook (2001)
Death: At Death's Door (2002-2003)
The Dead Boy Detectives (2005)
Delirium's Party: A Little Endless Storybook (2011)