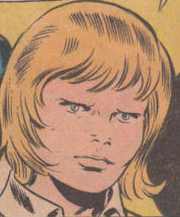 Jed Walker, also known as Jed Paulson,  is the son of Burt Paulsen and Miranda Walker, he is the brother of Rose Walker. Jed's grandmother is Unity Kinkaid, the dream vortex and his grandmother/father is Desire of the Endless.
After his parents separation he went with his father Burt. Burt later died and Jed lived for a while on Dolphin Island until the death of his grandfather, Ezra. He was then forced to go live with his Aunt and Uncle who were appallingly abusive.
Jed escaped to his dreams were he could fly and had heroes as surrogate parents in Lyta Hall  and Hector Hall. Hector's "assistants" Glob and Brute were actually planning on using the power of Jed's dream to overthrow the Dreaming. Jed's dreams were apparently more powerful than was normal due to his connection to Rose Walker and Unity Kincaid. The real Sandman returns and removes Hector, and the damage caused by this battle destroys Jed's house and kills his aunt and uncle.
Jed ends up a the prisoner of the nightmare known as the Corinthian. He is rescued by Fiddler's Green and is reunited with his sister Rose. Jed is taken to the hospital by Gilbert (Fiddlers Green) and Rose.
He later shows up at the The Wake, where his sister reveals that she is pregnant.