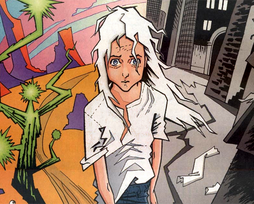 Hippolyta "Lyta" Hall is a major character, the mother of Daniel.
Originally Fury was Hippolyta "Lyta" Trevor, the daughter of the Golden Age Wonder Woman and Steve Trevor; as a result of this lineage, Lyta had all her mother's powers. She was introduced in Wonder Woman (vol. 1) #300. Like all Golden Age related characters at the time, Lyta was stated to live on the parallel world of "Earth-Two".
Lyta later adopted the identity of the Fury, named after the Furies of mythology, and was one of the founding members of Infinity Inc., in the book of the same name written by Roy Thomas. She also began a relationship with her teammate Hector Hall, the Silver Scarab, who she had met as a child, and now shared classes with at UCLA, which led to their engagement. Shortly after their decision to marry, Hector was possessed by an enemy of his father, Hawkman, and killed. It turned out that Fury was pregnant with Hector's child, and it was instrumental in the Silver Scarab's defeat. In 52, a new Earth-2 with a similar history is created, and Lyta Trevor serves as a member of the Justice Society Infinity.