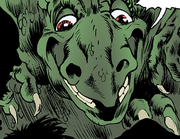 Gregory
is a large green gargoyle. He is
Cain
's pet. He communicates through grunts, which the other residents of
the Dreaming
seem to understand.

In Preludes and Nocturnes, he rescues Morpheus from the edge of the Dreaming when Morpheus is too weak to reach his castle, and deposits the Dream Lord on Abel's door step.  He often assists Abel's gargoyle, Goldie, when its master is spending time dead.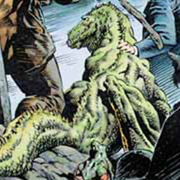 He first appeared as the offspring of two stone gargoyles in House of Mystery #175 in 1968.
He later appears during the Blackest Night crossover, defending Scandal Savage, the new owner of the House of Mystery, from members of the Suicide Squad.
Ad blocker interference detected!
Wikia is a free-to-use site that makes money from advertising. We have a modified experience for viewers using ad blockers

Wikia is not accessible if you've made further modifications. Remove the custom ad blocker rule(s) and the page will load as expected.