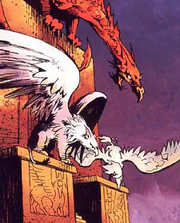 The Gatekeepers of the Dreaming take the form of a wyvern, a griffin, and a hippogriff. They are charged with guarding the entrance to
Dream
's palace, and notifying their master of visitors. The hippogriff has a horse's head instead of the traditional eagle's head.
They first appeared in The Sandman #18 Dream Country: A Dream of a Thousand Cats.
Their power and authority are derived from Morpheus himself. When Morpheus was captured in Preludes and Nocturnes, they weakened, and lost their ability to guard the palace or protect the Dreaming.

After the griffin was destroyed by the Furies in The Kindly Ones, the new incarnation of Dream did not remake him, but asked the gryphons of Greek myth to send one of their own. (#71)