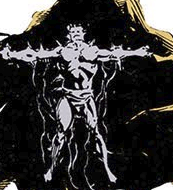 Breschau of Livonia appeared in
Season of Mists
, Chapter 2. He  was once a ruler of unsurpassed cruelty. He ripped out the tongues of those who spoke against him, cut babies from pregnant enemies, raped his own mother, murdered his sister, disfigured an unfaithful mistress and then had her sewn to her lover, then left them in the desert to die. 
He refused to leave Hell even after Lucifer's proclamation and eviction notice. He preferred to stay, his Hell was a place of his own making "I am receiving my just punishment...for my crimes were monstrous things."  Lucifer was unsympathetic and ordered him out, "You've been chained to this slab for eleven hundred years. Haven't you tortured yourself enough?"  He faded from sight, leaving only his chains upon the rock.
When Dream asked where he had gone, Lucifer simply said "Away."