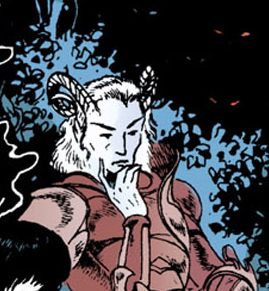 Auberon first made his appearance in
The Sandman #19, A Midsummer Night's Dream,
when he, his wife
Titania
, and their court, were the special guests of Morpheus at the debut of a new play by William Shakespeare.
Neil Gaiman planned a short story arc involving William Shakespeare entering a deal with Morpheus to write plays that would live on after him. Having introduced Shakespeare, previously, this then was the story of the first play that Shakespeare wrote for Dream in payment of the bargain. In A Midsummer Night's Dream there were created analogues of the play's main otherworldly characters, including Puck, Peasblossom, and other members of the Faerie Court. indicting that Shakespeare wrote the play to Dream's instructions, which included the stated goal that humans never forgot Faerie and its rulers, Auberon of Dom-Daniel and Lady Titania.
This issue was Auberon's only appearance in The Sandman. He did however, reappear in Gaiman's series The Books of Magic and its spin off The Books of Faerie.
Ad blocker interference detected!
Wikia is a free-to-use site that makes money from advertising. We have a modified experience for viewers using ad blockers

Wikia is not accessible if you've made further modifications. Remove the custom ad blocker rule(s) and the page will load as expected.